In the 'Baby & me' Swimming program, babies and parents are introduced to, and learn to love and respect the water, in a fun and colourful environment using toys, songs and skill based activities that enhance their confidence. The learning of basic safety and water skills are reliant on education, not just entertainment. We believe that teaching skills slowly and well in a progressive, sequential program is vital to overall future stroke development in swimming.
A child who is familiar with a water environment from an early age has a decided advantage over one who is either afraid of, or has no experience in water other than a bathtub.
A baby and toddler who has taken part in an infant aquatic program has a much greater chance of survival on falling into the water. They will more likely rise to the surface and turn automatically onto their back, floating happily. If taught so, they will turn to the edge until they can be rescued.
Early aquatics for babies and toddlers is valuable, not just for water safety but also as a part of a child's total development, particularly their perceptual, motor skills and special awareness. Swimming lessons provide an opportunity for a child to develop socially, emotionally, cognitively and physically, in a safe, structured, multi-sensory environment growing with self-esteem and self-confidence.
At DSA, our aim is to constantly update and improve our programs to better suit and develop develop a solid foundation in every child to support their mental, emotional, social and physical development in a joyful and stress-free water environment. Towards this goal, the 'Baby & me' program is another step in vastly improving the quality of learning gained by babies and toddlers who have the early opportunity to develop their skills in a water environment.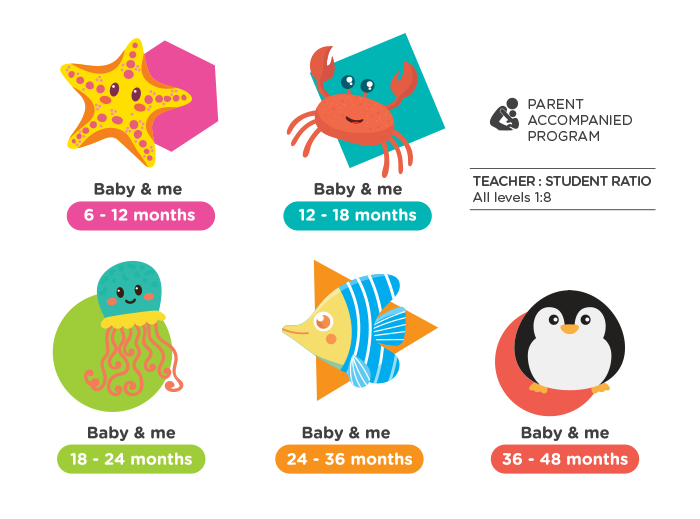 Our emphasis is on babies learning to:
 Be confident in water and respect its dangers
 Cope in stressful situations by activities using toys, songs and games through repetition and enjoyment
We can guarantee your child will be safer in the water. We however do emphasize on parent/adult duty of care of supervision at all times.
PROGRAM SCHEDULE
| | |
| --- | --- |
| JOIN BABY & ME SWIMMING PROGRAM NOW! | |
For more information or details please contact us and we will be happy to assist you.